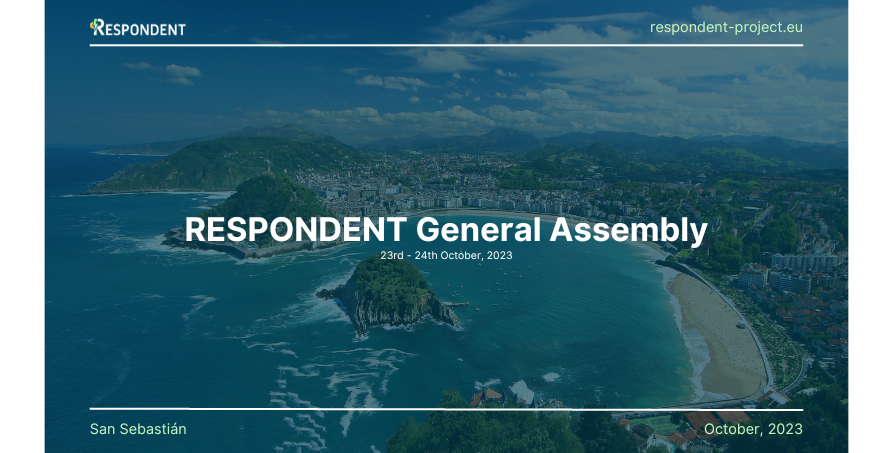 The RESPONDENT partners eagerly anticipate our upcoming General Assembly, scheduled for October 23rd and 24th in the stunning location of San Sebastián.
During the two-day meeting, our primary objective will be to delve into the progress of our project and to discuss our objectives moving forward as we near the one year mark since of RESPONDENT's inception.
As with previous meetings of the RESPONDENT consortium in Granollers, Spain, and Athens, Greece, the General Assembly in San Sebastián promises to be a valuable occasion for our partners to meet up and ensure our readiness as the project gains momentum and our results are realised. In addition, it will also be an exciting opportunity to explore the headquarters of our project partner and gracious hosts, Vicomtech.
Speaking ahead of the meeting in October, EU Project Manager Benjamin Moore of Carr Communications expressed his excitement for the event:
"It's always such a great experience to meet up with the other partners face-to face. Of course, a lot can be achieved over email and with weekly video calls, but there's just something so stimulating about being gathered in the same room and planning out our next steps for the project in each other's physical presence. I'd be lying if I said I wasn't also excited to see the beautiful scenery of San Sebastián, which is an added bonus of the meeting for me!"
We can't wait to meet in person for the General Assembly, and to share highlights from the meeting with you. Be sure to stay connected with us on our social media channels to stay updated on the meeting's outcomes and gain insights into future events related to the RESPONDENT project!
LinkedIn: RESPONDENT Project
Twitter: @RESPONDENT_EU