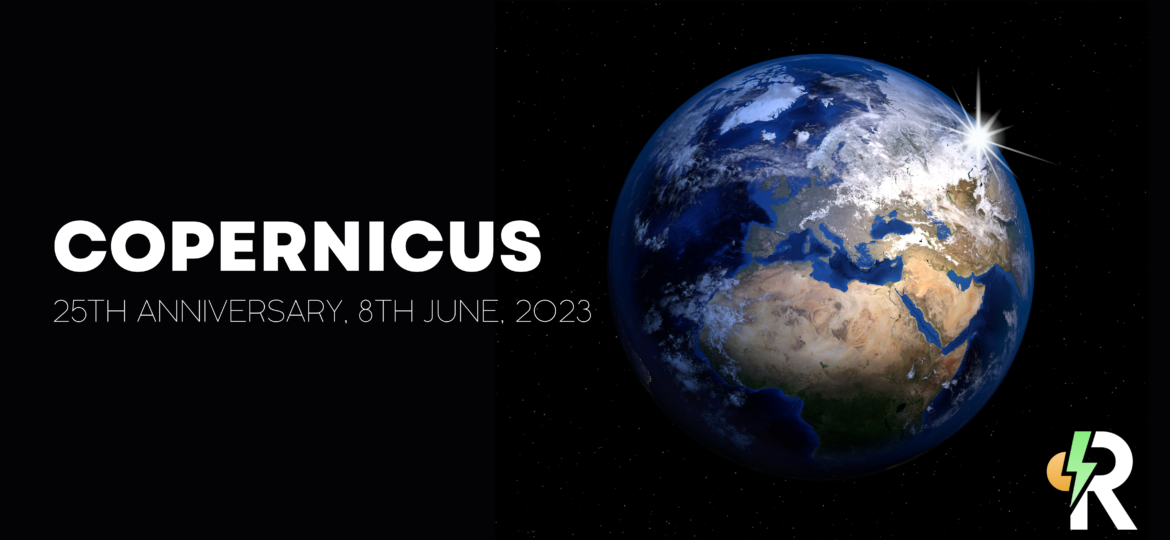 On June 8th, 2023, Copernicus will be celebrating its 25th anniversary of orbiting, observing, and monitoring the Earth. In the 25 years since its inception, Copernicus has sought to apply its revolutionary technology and gather environmental insights that have helped to fundamentally transform the way we observe and monitor our world from above.
As a Horizon Europe project under the topic "EGNSS and Copernicus applications for fostering the European Green Deal", the information provided by Copernicus will be vital to the success of RESPONDENT and its aims to support the widespread adoption of renewable energy sources (RES) and assist in mitigating the catastrophic effects of climate change.
In celebration of the 25th anniversary of Copernicus, therefore, we have written a brief but informative summary of what Copernicus is, its purpose as a programme, and how it will be used to maximum effect in achieving the objectives of the RESPONDENT project.
What is the Copernicus programme?
Copernicus is the European Union's Earth Observation (EO) Programme. Its creation came in 1998 following a ground-breaking vision for a European environment monitoring programme, and has grown to be one of the most advanced and successful Earth observation programmes of its kind ever created.
Since 2021, it has been a vital component of the EU's space programme, coordinated and managed by the European Commission.
What is the purpose of Copernicus?
Copernicus EO utilises a set of dedicated satellites and in-situ observations of the Earth to deliver near-real time data about the state of our environment on a global level. Such services help us to better understand our planet at both a regional and global level, to create better forecasts of changing weather patterns, and to observe the overall health of our environment and ensure its management in a sustainable manner.
Trillions of terabytes of full, free, and open data are transferred daily from Copernicus to hundreds of thousands of users, as well as supporting thousands of jobs and contributing billions of euros to the European economy.
Who is Copernicus useful to?
The information provided by Copernicus EO services is of significant importance and usefulness to a wealth of different end users across a variety of sectors, including urban area management, civil protection, health, forestry, agriculture, emergency response, the research and scientific community, policy makers, and society at large.
In addition to these sectors, Copernicus services can also be tailored to specific commercial or public needs, resulting in the potential for new business opportunities to arise through its applications and usage.
How will Copernicus be used in the RESPONDENT project?
The exploitation of Copernicus EO data will be crucial in securing the success of the RESPONDENT project, as one of the main aims of RESPONDENT is to fully utilize such data for RES power generation and demand forecasting purposes.
As a project that aims to bolster the adaptation and increased uptake of RES into Europe's power grid infrastructure, an issue that presents itself with this task is the accurate power generation prediction of variable energy sources, such as wind, solar, and hydropower. These sources are highly weather-dependent and subject to significant fluctuations in the potential output of their generated power.
The EU's Copernicus EO Programme will, therefore, provide RESPONDENT with advanced capabilities to better estimate local weather and climate parameters. Such capabilities will in turn affect the performance of innovative algorithms for power generation prediction of climate-dependent RES and help to achieve highly accurate, site-specific, short- to mid-term weather and power forecasting.
Specifically, the data received from Copernicus EO, combined with in-situ IoT-based weather station data, will be used and processed in artificial intelligence/machine-learning (AI/ML) algorithmic models to provide power generation and demand forecasting. The data received from Copernicus EO will be fed into these AI/ML models, which will successively be fed into power-conversion models that produce the required energy forecasts that make RESPONDENT such a unique project.
What will success look like for RESPONDENT with respect to its use of Copernicus?
By demonstrating the Copernicus-based power generation forecasting methods in relation to variable RES, the consortium believes that a significant number of European RES aggregators will be interested in adopting the project's developed solution, while also consolidating and standardising the use of Copernicus EO data in future available commercial solutions.
The RESPONDENT consortium further foresees the effective and reliable Copernicus-based power generation and demand forecasting in RES-based smart grids as part of the project leading to an estimated 50% increase in the adoption and integration of RES into the future smart grids around Europe, as well as a 30% increase in the usage of Copernicus-based power generation and demand forecasting solutions that also result in the expanded uptake of Copernicus services in the scientific community at large.
For more information on how Copernicus will be crucial to the success of RESPONDENT, be sure to check out our project website, and to follow us on LinkedIn, Twitter, and YouTube.